Flexible use and smart investment
3B Dienstleistung goes all in for Egholm's Park Ranger 2150, both buying and renting
Egholm News 23/11/2020 00:00:00
Flexible use and smart investment
3B Dienstleistung goes all in for Egholm's Park Ranger 2150, both buying and renting
For many years, property maintenance service provider 3B has been one of the most important and loyal clients of Danish equipment carrier specialist Egholm in Berlin and the new German federal states. This close cooperation is hardly surprising since winter services and maintenance of green and grey outdoor spaces are crucial pillars of this family led company. Egholm's working machinery can be refitted to suit diverse requirements with great flexibility and speed and always convinces through excellent performance and ease of handling. Therefore, it fulfils the needs of 3B to the fullest extent. In order to keep it all ready for service all the time, particularly during the winter months, cooperation with cleaning services company Reinigungstechnik GmbH Werner Marzahn is vital. The qualified and factory-trained technicians of Egholm's long-standing distribution and service partner (Reparatur- und Servicebetrieb Gmbh Werner Marzahn) can guarantee that every one of their more than 20 Park Rangers 2150 can carry out their jobs even under the harshest weather conditions.
Anyone who is active in the areas of property cleaning services, garden and landscaping maintenance or hotel services in Berlin and surroundings is familiar with 3B Dienstleistung Deutschland GmbH. This property maintenance service provider, founded in 1982, is one of the most renowned members of the industry in the region and is managed, to this day, by the family of founder Jörg Benthin. But the company is not only successful in the capital. In the 30 years since German reunification, they have established new locations, in Dresden and Leipzig among others, and now cover large parts of the new German federal states. Right from the start, their performance portfolio focused strongly on infrastructure services, particularly winter services. In order to provide thorough and efficient operations, 3B has relied on high performance engineering from Egholm for the last 15 years.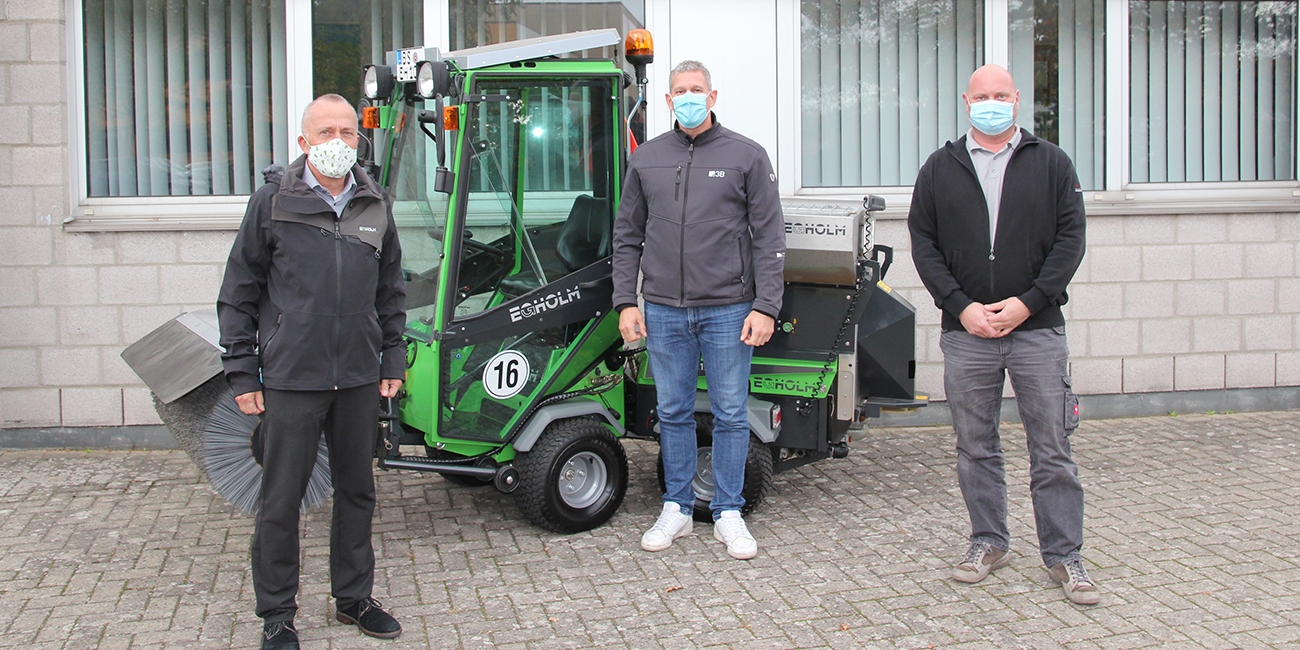 Norbert Birkendorf (Group Rental Manager Egholm A/S), Markus Toller (Head of Department for Basic- and Special Cleaning at 3B) and Bernd Marzahn, (Managing Director, Reinigungstechnik GmbH Werner Marzahn)
An uncomplicated all-rounder
Requirements for equipment carriers were basically the same then as they are now: efficiency in very diverse applications, ease of operational use, and most of all reliability and failsafe performance. Since 3B vehicles are used all year round and parked outdoors even in winter, the latter depends directly on robust design and construction. "Even when it gets really cold in winter, the battery and the gearbox need to function perfectly. A vehicle that doesn't start up in the morning when we're going out to clear the snow from the streets would not be acceptable for us", explains Markus Toller, Department Head of Basic and Special Cleaning Services at 3B. Particularly in Berlin, the maintenance company mostly works for private clients in property management, which means that smaller, more agile vehicles are required. Egholm's Park Ranger 2150 is a perfect match for that specific requirement profile. Combined with various attachment devices, the equipment carrier is very versatile and can be used at any time of year. While snow plough blades and salt spreaders are called for in winter, various mowing units and brush attachments are suitable for the maintenance of green and grey outdoor spaces during the warmer months. And it's not just the 3B leadership who are excited by this uncomplicated flexibility. "Logical, self-evident operation is important to our staff", Toller praises the machine.

Buying or renting
And so it's not at all surprising that 22 of the current 24 Egholm vehicles in the 3B fleet are Park Rangers 2150. Right now, half the fleet of this service provider is bought and the other half is rented. The company likes to take advantage of the option to rent vehicles in order to minimise financial risk and avoid owning unused equipment. Particularly in cases of short-term changes in their client base, this is often the only way to react quickly without making major investments.
Markus Toller outlines their interest in future investments: "In Berlin, we take care of many large residential complexes, including green and grey outdoor spaces of 10,000 square metres or more. This can not be achieved without efficient, reliable technology. And it is exactly what the Park Ranger 2150 offers as it can be used in every season of the year. In autumn it removes fallen leaves, in winter it removes snow, in spring it removes the remnants of road grit, and it summer it removes dust and other waste material. The machinery makes sense for us in every way." In order to make the same flexible use of the bought vehicles as of the rentals, it is also possible to rent individual attachments. This doesn't just support uncomplicated reactions to changes in circumstances without the need for expensive acquisitions, it also saves 3B the expenditure of storing the attachments correctly while they aren't in use.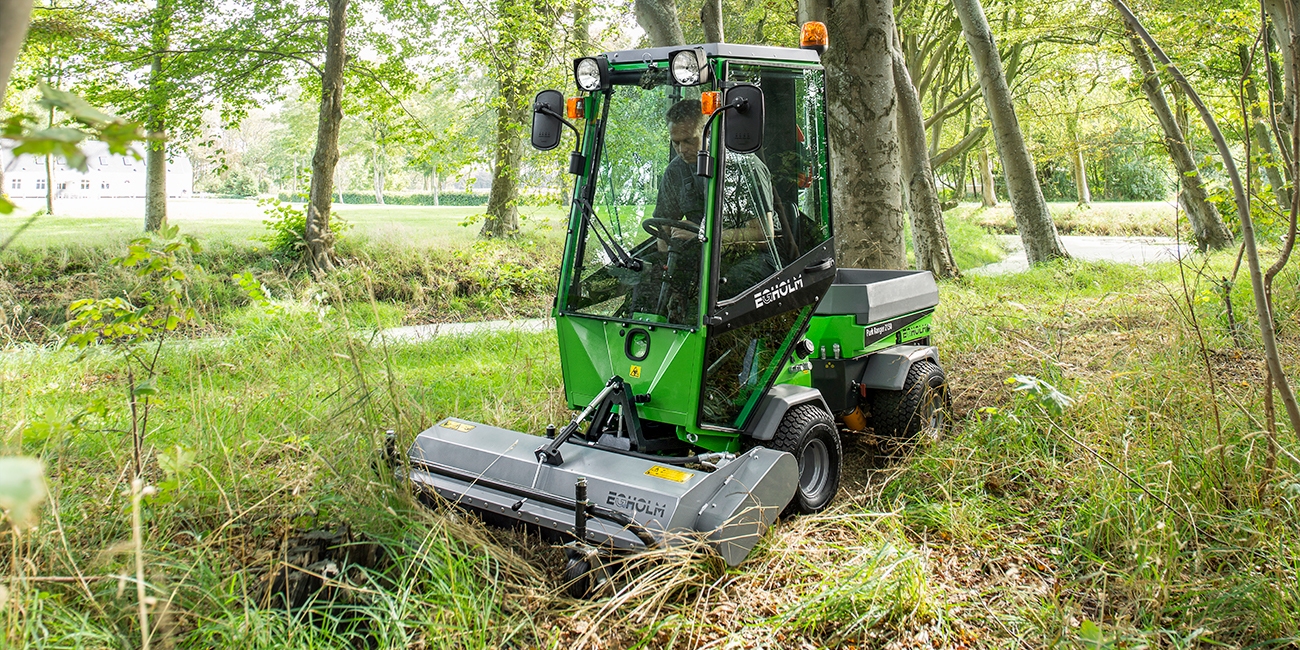 Full usage of the product
Ease of use is a crucial criteria not just for 3B. The service technicians who guarantee a frictionless operation are spared a lot of unnecessary detective work by the simple and well-thought-out construction of the Park Ranger 2150. "In 90 percent of all cases, it is immediately obvious where the problem lies. We always know what to do and have spare parts in stock because the vehicle doesn't incorporate a lot of electronics and very little has changed since it was first introduced", Managing Director of Werner Marzahn Reparatur- und Servicebetrieb GmbH, Bernd Marzahn, summarises the advantages. Their experienced technicians, two of whom are specifically trained on Egholm machinery, are responsible for 200 pieces of equipment altogether. Norbert Birkendorf, Egholm's Group Rental Manager, highlights the special commitment of their longstanding trading and service partner: "We've been working with Marzahn for thirteen years now. During this time, we've sold considerably more than 100 vehicles in Berlin and the region. We've also conducted many successful repairs and maintenance jobs. That's a remarkable achievement."

Confidence in the future
3B and Marzahn are affected by the effects of the current challenging situation in different ways. "At the moment, Corona doesn't make it easy to plan for the future. But we're definitely thinking of new investments in our fleet", Toller describes the situation. At least demand for services in private property management is more crisis-proof than in other industries. They've also noticed changes in trading and services, Bernd Marzahn says. "Our new machinery business practically came to a standstill because investments were held back. Instead, many older pieces of equipment that were supposed to be replaced were repaired one more time. So we've focused more on that during the last few months."
Nevertheless, both look optimistically towards future developments and the partnership with Egholm. Their confidence stems from the longstanding collaboration with the manufacturer, based on mutual trust. "3B is a client who really understands the usage of our equipment and who knows exactly at what point which form of acquisition makes sense. Marzahn is a service partner who fully backs our products and represents us optimally. We're also always honest and fair with each other", Norbert Birkendorf concisely expresses the reasons for their mutual appreciation. Resting on these strong foundations, nothing stands in the way of the success of this partnership in the coming years.