Street sweeper
The street sweeper is indispensable in all seasons. A suction sweeper system turns your Egholm machine into a versatile outdoor sweeper for all tasks. In spring, gravel or dirt left on roads and paths after the winter can be removed. In summer, the machine keeps outdoor areas free of cans, paper, rubbish, etc., and in autumn, it removes dirt and leaves blown about by the wind. A street cleaner is the ideal choice for sweeping footpaths, pavements, car parks, etc.
Park Ranger 2150
Street sweeper

The Park Ranger 2150 can be equipped with a complete suction sweeper system, giving you an efficient street sweeper.
Professional and incredibly manoeuvrable - even in narrow passages - it is ideal for sweeping car parks due to its low overall height.
The optional third brush increases the sweeping width, it is hydraulically operated and therefore perfect for sweeping up against building walls, or, for example, under benches.

City Ranger 2260
Street sweeper

The suction sweeper system for the City Ranger 2260 is an effective solution for street sweeping - on paths and pavements, verges, driveways, outdoor and indoor parking areas, etc.
The street sweeper has an external suction hose, a water tank and a suction tank for the collected waste.
It can be fitted with two, three or four brushes.
City Ranger 2260 street sweeper video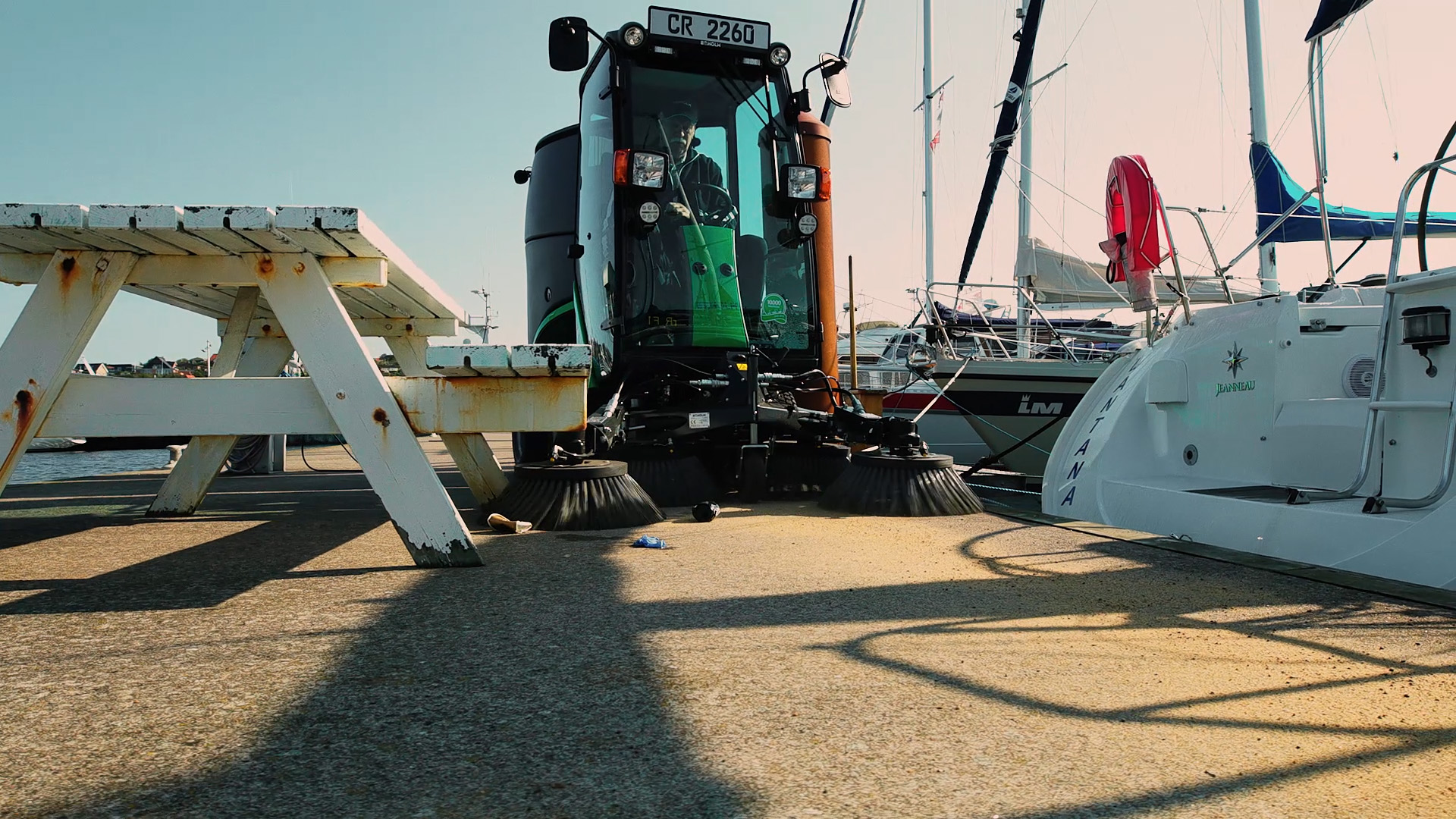 City Ranger 3070
Street sweeper

With its small turning circle, the City Ranger 3070 can sweep up debris and move about in very narrow passages.
An extra third brush increases the working width of the street sweeper machine.
Its compact design makes it possible to sweep under elements such as benches or similar, and the overlapping brushes reduce the risk of leaving tracks.
City Ranger 3070 street sweeper video
The street sweeper sweeps in narrow passages
Sweeping narrow footpaths, cycle paths or other areas with limited space is no problem for Egholm's street sweepers. With their compactness and manoeuvrability, they can easily get in even the tightest passages. And with their small turning circle, the street sweepers can be used in areas with limited space. In short, the Egholm street sweeper is perfect for outdoor cleaning tasks.
Sweeping obstacles with an extra brush
With the optional extra brush (City Ranger 2260 can be equipped with two extra brushes), it is also possible to sweep under benches, for example, and clean around other obstacles very effectively. For the City Ranger 2260 and City Ranger 3070 street sweepers, the side brush can be angled to sweep deep gutters or positioned at different heights for sweeping kerbs and steps.
The dust is under control
The dust is under the full control of the sweeper. Water nozzles mounted on the front brushes moisten the area in front of the brushes to prevent dust from swirling up. The suction tank is fitted with filter systems that create a fine water cloud in the suction tank where even the smallest dust particles are trapped. This reduces the risk of dust particles being released back into the environment.
The suction hose helps where the street sweeper cannot
The external suction hose makes it possible to clean where the street sweeper cannot reach, for example, around park rubbish bins, in cellar shafts and on stairs. This ensures an optimal result for the work.
High-pressure washer at your fingertips
The City Ranger 2260 and City Ranger 3070 can be fitted with an integrated high-pressure washer (100 bar). A long and flexible high-pressure hose and nozzle hose make it easier to clean statues, wastepaper baskets, benches and other park equipment, but also for cleaning the machine itself. The handle is ergonomic and the water flow can be adjusted to save water.
Build your own machine
Configure and request for a demo, more technical information, rental information or a quote from a dealer.
Find a local dealer
The Egholm utility machines are sold and serviced through a wide network of dealers and distributors.

Contact Egholm
Contact us if you would like a demo, a quote or just want to know more about our machines.