Meet the new City Ranger 3070
Introducing the City Ranger 3070 – a high-end compact utility machine for all-day maintenance of large outdoor areas.
Egholm News 03/12/2019 00:00:00
City Ranger 3070 is a large-scale utility machine that shares the outstanding maneuverability of all Egholm machines. City Ranger 3070 has been designed with operator comfort and demanding, time-consuming tasks in mind.
Multifunctional use, Quick-shift, 1 m3 hopper capacity, high manoeuvrability and optimum operator comfort, modern joystick and an inch pedal are just some of its unique features.
A newly developed attachments programme is on the way, too.

Perfect for demanding tasks
With a gross vehicle weight of 1710 kg and a 70 HP engine, the City Ranger 3070 is a high-end machine.
No compromises have been made with regards to maneuverability. Thanks to its articulated steering the inside turning circle is only 1650 mm – far less than the standard for machines in this range. This makes the City Ranger 3070 ideal for tasks in cities, parking houses and large industrial estates.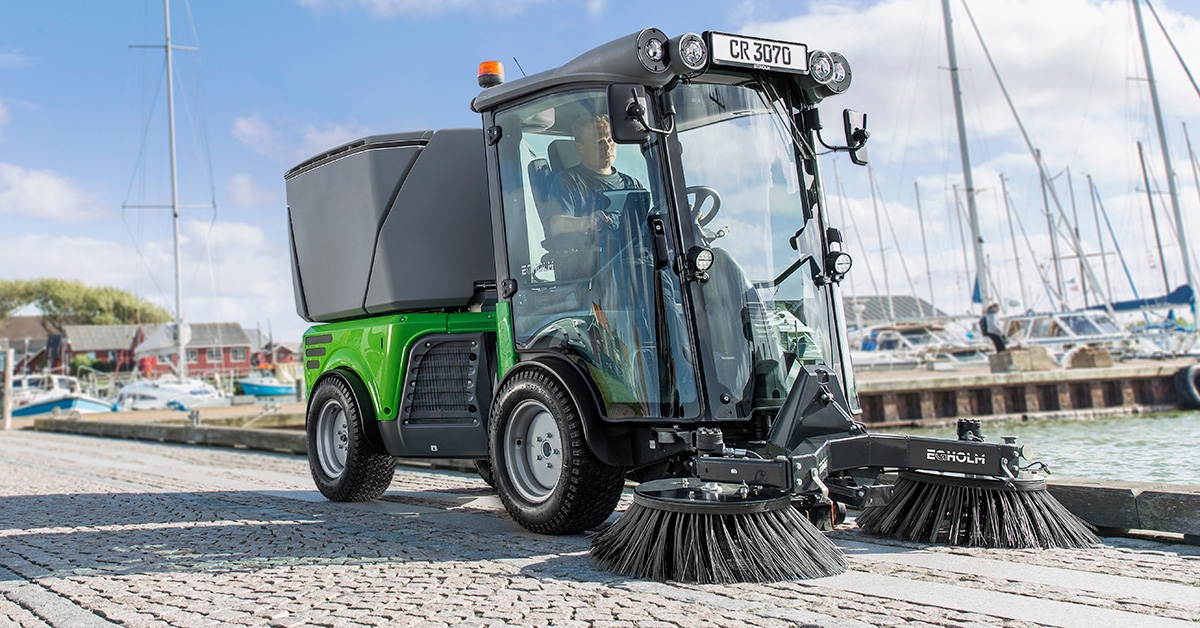 Focus on comfort
Utility machines on this scale are typically in use many hours each day, sometimes even in multiple shifts. With the operator spending most of his day behind the wheel, we have placed extraordinary focus on ergonomics and comfort during the development phase.
The City Ranger 3070 boasts several adjustment options for seat and steering wheel, noise level is low at only 69 dB(A) and the cabin is fitted with ventilation and air conditioning, making the machine a pleasant place to spend a working day.
Unique Quick-shift
Thanks to the unique Egholm Quick-shift system, attachment changes can be made in just one minute.
Simply pick-up the front attachment with the machine, turn the handle and all mechanical, hydraulic, water and electrical systems are connected and ready to go !